Sam the Ironman
Sam Karliner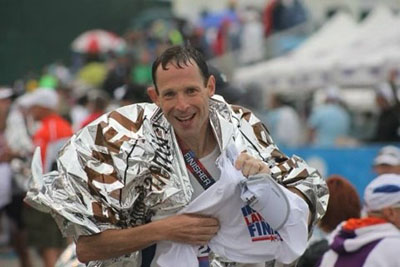 In 2011, Sam Karliner could barely swim across a pool and didn't own a bike. But as a life-long runner, he knew he could run. Today he is a 10-time Ironman headed to the 2023 Ironman World Championships in Kona, Hawaii. Sam began running at age 13 and competed on his high school team for 4 years. In 1985, Sam entered his first marathon, the New York City Marathon. He finished in just over 4 hours, was hooked and would soon become a sub-3 hour marathoner. When Sam got married and had children, running and traveling to races became part of their family fabric. But a persistent memory stuck in his mind: Ironman, a crazy insane race that he had seen on TV, a 140.6 mile race comprised of swimming, biking and running. Over the years, he would ask himself: Who can do that?
At 47 years old, Sam sought the answer to that question for himself. He signed up for the 2012 Iron Man Lake Placid, New York 2012. It was an amazing experience that he wasn't completely prepared for but, as he crossed the finish line he was hooked. He needed more. That began his journey into the world of Ironman. Now that Sam knew he could complete the distance, his reasons for competing evolved and changed. Having adopted twin sons Elliott and Jake with his wife Jill in 1995, he began using Ironman as a platform to raise money for Forever Families Through Adoption (FFTA), a local adoption agency. The more Sam trained, the more he learned, the more people that followed his progress, the more competitive he became.
Sam started doing well within his age group, moving up in his finishing places. Soon he was finishing in the top 10% of his age group. To qualify to compete at the World Championships in Kona, Hawaii, athletes must finish in the top one or 2% of their age group. Sam knew it was going to require a lot of work. He had to train smarter, not just harder. He hired a coach and dove into understanding the sport and training better. And then, life happened, as it always does. In 2019 during a training ride, he suffered a crash and shattered his hip socket. He wasn't sure if I would be able to walk again, let alone run or compete. After extensive surgery and a long, painful rehab, he pushed himself to begin Ironman training again. The improvements came slowly, over the next six months Sam slowly began to walk again then lightly bike until he was able to progress to a short slow jog. By the spring of 2020 he was ready to dive back into serious training. First, Sam qualified for the Ironman World Championship at the 70.3 distance. Competing at this level was an entirely new experience for him, at half the full distance the pacing is faster and more intense. After a shaky start in that race, he able to come back and have the seventh fastest run time in his age group 55-59. Finally in July 2021, Sam came in second in his age group at Iron Man Lake Placid and qualified for the World Championships in Kona, Hawaii.
Check out Sam's Interviews:
Donations are tax-deductible to the fullest extent allowed by law (Please consult your tax advisor regarding your tax exempt donation) FFTA 501(c)(3) Tax Exempt # 20-8879080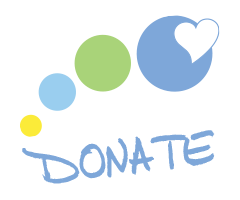 Learn how you can help FFTA by donating financially, through time and more...
What's New at FFTA?
Adoption Tax Credit in 2023
The IRS announced the Adoption Tax Credit for 2023 and the maximum credit allowed for qualified adoption expenses has increased from $14,890 to $15,950.
The credit begins to phase out for taxpayers with modified adjusted gross income (MAGI) in excess of $239,230, and it's completely phased out at $279,230 or more. Please contact your TAX accountant or TAX advisor for more specific guidance.
SAVE all of your invoices and expenses towards your adoption and contact your personal accountant or tax attorney for more information about this new news for 2023!