Calendar of Events
Annual APC conference - Brooklyn, NY
November 19th, 2017 | 8:00AM - 5:00PM

Registration is OPEN for our 37th Annual Adoptive Parents Committee Adoption Conference!
APC's annual conference serves to promote a better awareness and understanding of adoption and foster care and provide members with accurate information concerning adoption, foster care, and parenting issues. Conference participants will have the opportunity to attend numerous workshops, seminars, lectures and panel discussions. Led by professionals and experts in the adoption field including attorneys, social workers, physicians, adoptive parents, agency representatives, adoptees and educators, the workshops provide up-to-date information as well as a forum for discussions. Our conference is for those who are considering adoption as a way to build their family, those who have already adopted, and child welfare professionals and advocates.
This year's keynote speakers are April Dinwoodie, Chief Executive of the Donaldson Adoption Institute, and Kimberly Paglino, Program Director at Donaldson Adoption Institute.
Come and learn with us, share ideas and join together in promoting the joys of adoption!
REGISTER today and get more information about Adoptive Parents Committee on our website. Do not hesitate to contact us with any questions. We look forward to seeing you there!
Location:
St. Francis College
182 Remsen St
Brooklyn, NY 11201
www.adoptiveparents.org
Shop Smart - Do Good Charity Day at Eastchester Lord & Taylor
November 17th, 2017 | 9:00 AM - 11:00 PM

Purchase your tickets now for only $5 a piece.
Each ticket includes a 15% off savings pass to be used all day on regular and sale priced items - including cosmetics and fragrances.
In addition, each ticket includes 2 special 25% off bonus coupons for one regular or sale priced item (some restrictions may apply) FFTA receives 100% of the proceeds from ticket sales- so go ahead SHOP SMART- DO GOOD!
Family Bowling with Forever Families Through Adoption

May 20th, 2018 | 5:00 - 6:30 PM
Please join us for Family Fun Bowling on May 20th from 5:00 - 6:30 PM at the Scarsdale Golf Club Bowling Alley, 1 Club Way Hartsdale, NY.
Enjoy an afternoon of bowling, food, drinks, raffle prizes, and fun!!
Tickets are $30 per person (25 per person if purchased before May 15th) and $12 per child under 12. Tickets can be purchased in advance.
Unable to attend? Please consider making a donation. FFTA is a 501(c)(3) tax exempt organization.
Pizza with a purpose @ California Pizza Kitchen
January 15th, 2018 | All Day
Bring in the below flyer, present it to your server, and we'll donate 20% of your check to Forever Families Through Adoption. Purchases include dine in, take out, catering and all beverages.
Valid at the following location:
California Pizza Kitchen
365 Central Park Ave
Scarsdale NY 10583
(Just north of Hartsdale Post office)
914-722-0600
APC Hudson Chapter Monthly Meeting
March 10th, 2018 | 7:00 PM - 10:00 PM
FFTA's Executive Director, Joy S. Goldstein, LCSW, ACSW and Michael S. Goldstein, Esq., Adoption Attorney will be speaking at the APC Hudson Chapter Monthly Meeting. TOPIC: "Choosing the Path to Adoption That's Right for You".
Location:
Betty Taubert Girl Scout House
37 Wayside Lane
Scarsdale, NY

Adoption: Everything You Need to Know @ Portchester - Rye Brook Library
August 20th, 2018 | 6:00 PM - 7:30 PM
This free event is open to anyone interested in or involved with the adoption process, including professionals, community members, expectant parents, adoptive or potential adoptive parents, and adoptees. Come learn about the domestic adoption process and meet the staff of FFTA. FFTA is authorized in CT and NY.
Location:
One Haseco Avenue
Port Chester, New York 10573
(914) 939-6710
www.portchester-ryebrooklibrary.org
Contact FFTA
Email: adopt@ForeverFamiliesThroughAdoption.org
Download Flyer

Adobe Reader is required.
Save The Date! - An Evening at Wainwright House
November 3rd, 2018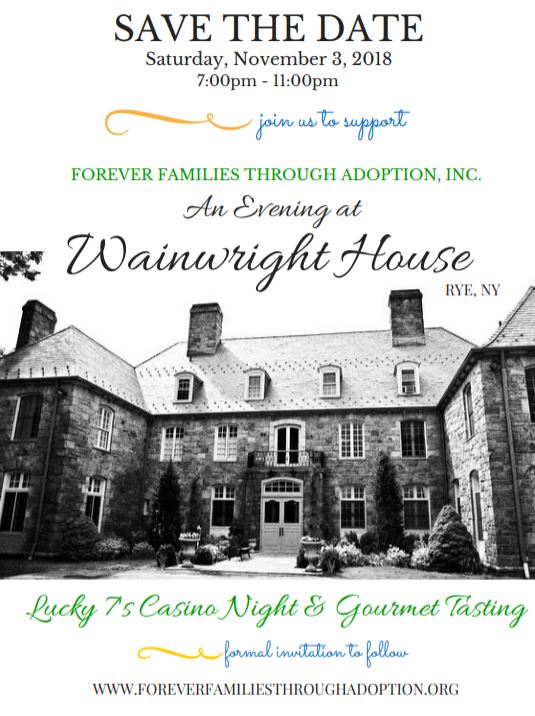 "Colorblind; Color doesn't matter??" Transracial workshop at ANW in Nijmegen, The Netherlands. Come see Award Winning Speaker - Rhonda Mae Roorda and learn from The Goldstein's and other professionals.
Thursday, June 8th, 2017 | 4:30PM - 11:00 PM
We are extremely proud to let you know that Rhonda Mae Roorda will be flying in from the USA to speak at A New Way's event on transracial adoption on June the 8th 2017 in Nijmegen.
About Rhonda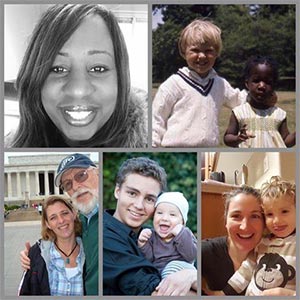 Rhonda was adopted at the age of two into a white American family with Dutch heritage. She was raised with her two non-adopted siblings in the Washington, D.C. metropolitan area.
She is an Author & International Speaker on Transracial Adoption and a recipient of the Judge John P. Steketee Adoption Hero Award from the Adoptive Family Support Network (MI) a recipient of the 2017 Friend of Children and Youth Award from the North American Council on Adoptable Children (NACAC) for her work with children and families.
Rhonda's latest book, In Their Voices: Black Americans on Transracial Adoption was named by Choice magazine as a 2016 Outstanding Academic Title. With the late Dr. Rita J. Simon, she coauthored a landmark trilogy of books on Transracial Adoption (In Their Own Voices, In Their Parents' Voices, and In Their Siblings' Voices). Rhonda's work is highly regarded in academia, among adoption agencies and corporations, in Hollywood, and in households in the United States and abroad. Rhonda earned her Bachelor of Arts Degree in Telecommunications from Calvin College in Grand Rapids, MI and a Master of Arts Degree in Communication-Urban Studies at Michigan State University in East Lansing, MI. Rhonda works as a fund administrator at an educational advocacy organization in Lansing, Michigan.
We suggest you ordering and reading Rhonda's 3 books. You can order your copy through Dekker van der Vegt in Nijmegen. Please sent an email to info@dekkervdvegt.nl. Bring your copy to the event and Rhonda will be more then happy to sign them!
About the event
We often hear "color doesn't matter to us", or words of similar meaning. However, interracial parenting is a subject that deserves awareness in the adoption community. Even when color and racial background do not matter to adoptive parents or the adoptive family, it does play a role in the lives of the adopted children. It also plays a role in how the outside world looks at families, how the outside world could look at these adopted children now and in the future, the comments he or she could get, and the (possible) types of racism we so much like to protect them from.
How do you deal with this within the family, or more specifically, how do you deal with this as a CAUCASIAN adoptive parent? Does your child feel comfortable enough to discuss this with you, knowing that "it doesn't matter to you"? How do you bring you child in contact with this part of his or her self? For many adoptive parents and adopted children it's a search. Reality has taught us that it's not always an easy subject to discuss within the family or with the social environment.
Therefore, ANW has organized the Theme Class "Colorblind; color doesn't matter...!?" And we do not take this on lightly.
We have a fantastic, inspiring, surprising and international line up of speakers. With their knowledge, personal experience and professional background they can shed light on this theme in a positive manner and provide you with more knowledge and tools for now and the future!
The class is meant for prospective adoptive families, adoptive families, their relatives, friends and their children (from the age of 12, provided that their parents think that they are ready to participate in such a class), but it's also a very interesting class for everyone who is interested professionally or personally in interracial adoption and parenting.
The class fee is EUR 50 per person age 18 and older. If adoptive families want to bring their friends or family that are not part of the adoption community the fee is 25 euro's (provided that the prospective adoptive family or the adoptive family attends the event).The class fee is EUR 20 per person under the age of 18. This fee also includes soup, bread and beverages. (Please note: beverages after the class are not included).
Please note: the class will take place partially in Dutch and partially in English!
Please register as soon as possible, because only 150 people can participate. Send an email to info@anewway.nl
Until May the 14th, registration priority will apply for prospective adoptive parents and adoptive families with American adopted children. Next, the open seats shall be filled based on the moment of registration.
USA-Dutch Family Fun ANW Picknick Day - visit with Joy & Michael Goldstein and other Dutch families who have adopted from the USA.
Saturday, June 10th, 2017 | 10:00 AM
Op zaterdag 10 juni 2017 vindt van 10.00 uur-zo lang je wilt de USA Family Fun Picnic plaats in Speeltuin De Leemkuil (Luciaweg 2 te Nijmegen). Deze Family Picnic is voor iedereen die uit de USA geadopteerd heeft (ook als dat niet via ANW is gegaan) en voor AAO's die willen gaan adopteren uit de USA.
Op veler verzoek beginnen we al om 10.00 uur als de speeltuin open gaat. Omdat het een openbare gemeentelijke locatie is kunnen we geen plaats reserveren MAAR als we op tijd zijn kunnen we hem wel innemen.
Bo en Sanne zijn er om 9.45 en we zouden het erg fijn vinden als er wat ouders zijn om te helpen met wat slingers en ballonnen ophangen. Laat je ons even weten of je op 10 uur kunt helpen?
De dag duurt tot zo lang je wilt (en de kinderen het volhouden). De speeltuin is tot 18 uur open.
Entree kost 4,45 vanaf 3 jaar (tot 3 jaar is het gratis). Dit kan je gewoon zelf betalen.
Eten en drinken kun jezelf mee nemen evenals een picknick kleed of als je wilt een lekkere luie stoel.
Het is bring & share dus leuk als jullie de picknick lunch delen!
Er zijn ook water werkjes dus denk aan zwemkleding, een handdoek en droge kleren voor je kids
Patricia van der Burgt is beschikbaar voor vragen over alle zaken die je in de opvoeding bezig houden.
Hou de ANW FB en de mail in de gaten want als het weer echt heel erg slecht is gaat de dag niet door. Dat zou super jammer zijn maar met z'n allen in de regen is ook no fun en dat past niet bij de The USA Family Fun Picknick Day!
Alex & Ani - You are invited to a charmed by charity soiree
Wednesday, May 3rd, 2017 | 4:00 - 6:00 PM
Come sip refreshments, snack on small bite and shop with others who share your passion for giving back.
15% of all proceeds will be donated to support Forever Families Through Adoption, Inc.
Alex and Ani Rye
52 Purchase St, Rye, NY 10580
Adoption: Everything You Need to Know @ HYATT House White Plains
June 20th, 2017 | 6:30 PM - 8:00 PM
This free event is open to anyone interested in or involved with the adoption process, including professionals, community members, expectant parents, adoptive or potential adoptive parents, and adoptees. Come learn about the domestic adoption process and meet the staff of FFTA. FFTA is authorized in CT and NY.
Location:
HYATT House White Plains
(Formerly Hyatt Summerfield Suites)
Gathering Room 1 & 2 101 Corporate Park Drive White Plains, NY 10604
(914) 251-9700
www.hyatthousewhiteplains.com
Contact Courtney
Email: adopt@ForeverFamiliesThroughAdoption.org
Download Flyer

Adobe Reader is required.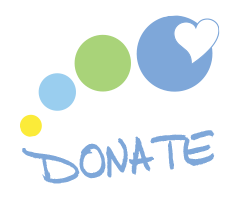 Learn how you can help FFTA by donating financially, through time and more...
What's New at FFTA?
Happy Mother's Day from FFTA
In celebration of Mother's Day, FFTA wanted to share with you a favorite article of ours. Whether you have struggled to conceive a child and find yourself on a different path to parenthood than anticipated or have become a parent only to find the experience entirely different than you imagined, you will likely relate to the thoughts expressed.